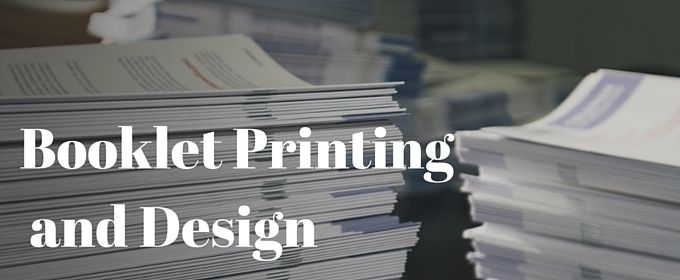 Booklets
Booklet Printing and Design
Booklets are usually reduced-size (smaller than 8.5" x 11") printed pieces of a few pages in length, sometimes stapled, which can be produced for many different uses from directories to programs. They may be distributed to all the attendees of a performance or given as instructional guides to new employees. Some types of booklets are:
Musical, Theater or Church Programs
Guidebooks
Handbooks
Directories
Instruction Manuals
Service Manuals
Parts Lists
Coupon Books
Short Catalogs
Pamphlets
There is no end to the applications for a booklet, but unlike books or magazines, the format for the design is customized and requires special software and formatting so that the pages are output in the correct order and orientation. Depending on how many pages your booklet is, this process, known as "page tiling," can be tricky and should likely only be done by our professionals using pre-press software that allows these capabilities.
Why work with a professional Booklet Printing Company?
If you've never produced a printed booklet before, not to worry, our design department can work with you to take your content and format it to the exact specification of your booklet size and length. If you need us to match any of your company's brand or identity requirements, we're happy to do so. If you'd rather lay the booklet out yourself, you're welcome to supply us with a digital file. If you don't have experience, but still would like to contribute to the look and feel of the design, our art department can assist you with creating a template that you can "drop" your text into, or we can produce the entire electronic design in-house — it's up to you which method you favor. Here are some of the many options you have available to you:
Layout Photos and text in the manner that you prefer.
Nearly unlimited typefaces
Multiple paper stock options
Variable print quality to save on expense or give a ultra high impression
Wide range of ink colors to complement your message.
Save money with Black-and-white or 2/3 color booklets
Easily incorporate ads or other elements from 3rd Parties
Direct-mail marketing available in any volume, in addition to Pickup and Delivery
Print in bulk and save money
Whatever type of piece you have in mind, we have likely printed something very much like it before. We're happy to send you samples of booklets we've produced in the past so you can see the quality of our finished product and let us know if there are any particular elements you want to emulate or incorporate.
Choose Einstein Printing for your Booklet needs!
Einstein Printing is proud to serve the city of Carrollton, as well as Addison, Dallas and the surrounding areas. Your only limitation is your imagination; our booklet printing capabilities are extensive — if you can imagine it, we can likely create it. Einstein Printing is a booklet printing company with flexibility, imagination and great attention to detail. Give us a call today to discuss your needs and inquire about pricing and turnaround times. Rush service for both design and printing are available at an extra cost.