Dallas Printing Company
Dallas Commercial Printing Company
"We want to help our clients be successful." Don't you wish that was the motto of every vendor that you work with? From 1980, when Einstein Printing first opened in Dallas, this has been our goal. Of course, we want to be successful as a business, and we realize the best way to achieve this goal is to help our clients become successful. In order to do this, we have had to make changes and adjustments along the way. From the original quick print shop, Einstein Printing has grown to be a premier Dallas commercial printer.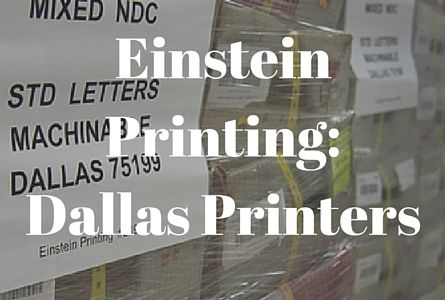 Professional Printing Services in Dallas
The Need for Commercial Printing Companies in Dallas
Some people today think that they can do their own printing with their inkjet or laser printers, and maybe a few people can. However, just one mailing of amateur looking brochures can cost you more than you can ever hope to save by doing your own mailers. You have seen these do-it-yourself print jobs. They are pretty easy to recognize. Some are not centered properly on the page, the ink may be fading, there are possible misspellings. The list can go on and on. What does this say? It says, "I don't really care enough about my business to make sure it is professionally represented."

Your business card, banner, or mailer may be the first thing your prospective customer ever sees of your business. Make that first impression count. Make sure it says "We are a professional group of people. We care about our business. We will care about you." When you hire Einstein Printing, a Dallas commercial printer, you can be sure that all of your printed products will be professionally done.
Printing Services Dallas
In days past, a printer was just that, a printer. Today Einstein Printing, a commercial printing company in Dallas, is so much more. They not only print your manuals, but they can professionally bind them for you. They not only print your corporate identity package, they can help design it. They do not only print your mailers, they can mail them and help monitor the response rate. Here are a few of the things Einstein Printing can do for you and your business:
Which of these Dallas printing services do you need for your company? Call us at 972-387-8485 to discuss your printing needs with an Einstein professional. If you are just getting started, and you are not sure what your needs are, or you don't even have a logo yet, that is no problem. We can help you from the conception of your business by helping you design the logo, brochures, letterhead, mail campaigns, and promotional products. We will also provide you with a free quote in advance of starting the work. Call Einstein Printing at 972-387-8485 or request an estimate today!